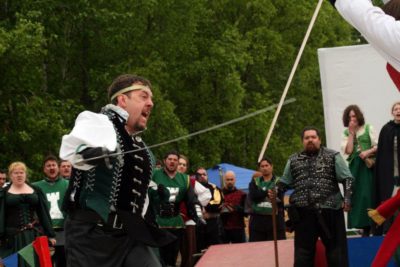 Dueling Arts Instructor, Frank Delaney, gives you all you need to know to become a master of the Broadsword!! Stage combat essentials plus training in theatrical broadsword use. Take your choice of a single weekend of training, or take both weekends and the Dueling Arts test to become a Certified Combatant in Broadsword. Need to re-certify? Come to the Sunday, Jan. 28th session and take care of everything you need to Re-certify.
If you are thinking of Three Baron's Fight Show, or other stage combat activities in Alaska, you need this class!
Weekend 1: January 20-21 1pm – 5pm each day
Weekend 2: January 27-28 1pm – 5pm each day
Weekend 1 only: $100.00
Weekend 2 only: $100.00
Certification Fee: $25.00
Recertification Only: $80.00 (January 28th only)
To become Certified you must take all 16 hours of class and the Dueling Arts test with Certification Fee. Must be 16+ to participate. Participants under 18 years of age must have a signed parent permission prior to any training.
Frank Delaney is a professional actor and fight choreographer. Frank has been an Associate Instructor for Dueling Arts, International for more than 10 years. He has taught at the Central Illinois Stage Combat Workshop, the Cease and Desist Combat Workshop, the Carnage in the Corn Workshop, and the Winter Wonderland Workshop.